01-May-18
May Day Flaghunting!
---
23-Dec-17
Western mists fall!
---


25-May-18 (Kivrin)
Long weekend tea sale!(0)
---
30-Apr-18 (Luthien)
Duender House for Sale!(0)
---
02-Apr-18 (Luthien)
Rabbit Hunt Final Results!(0)
---
01-Apr-18 (Luthien)
Gemynd House for Sale!(0)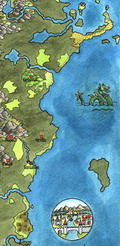 Ancient Anguish is a community which you play by connecting to the game server with the 'telnet' protocol. Most computer operating systems support this protocol, and some players can play with game consoles or even mobile phones.

There are many dedicated MUD clients available, some commercial but many are free, and a dedicated MUD client is recommended for players. Please see the Mud Connector client list for some.

For players who do not have a client already installed, you may also play Ancient Anguish from the website via a built-in Java or Flash client, or linking to a currently installed Telnet client on your machine. Select a button below to try one of these clients.





---